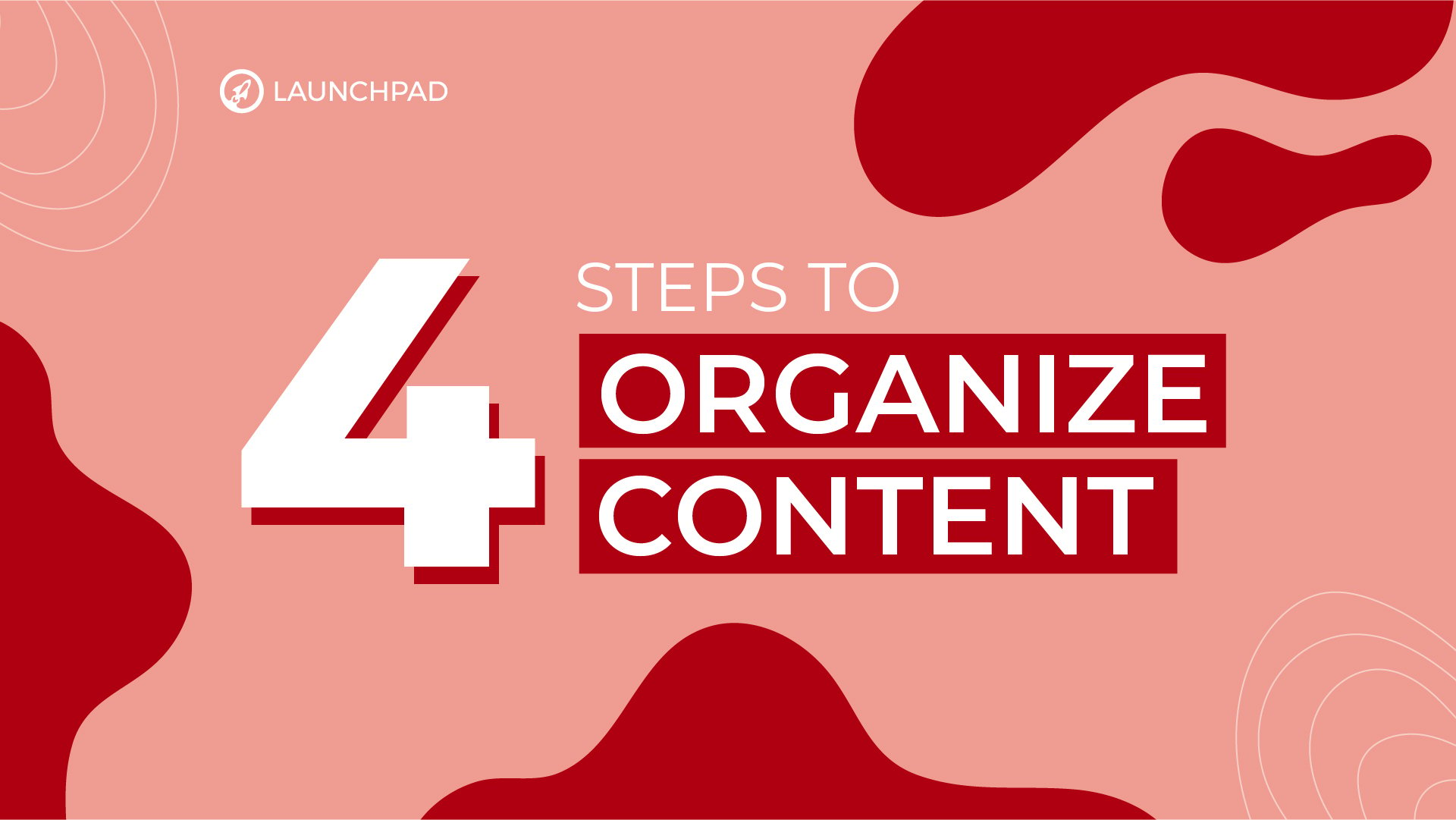 While content creation has its time in the limelight, organizing content is pivotal to any content creation strategy.
This article is here to help you navigate that puzzle in 4 simple steps.
At the end of this article, we'll show you an easier way to organize your content with a Powerful CRM tool.
Without further ado, here are 4 easy steps to organizing your content.
1. Strategize
Having a strategy is very important when organizing content. It enables you to use the right asset for the right situation. A good strategy addresses these questions:
What is the end goal for our content?
The end goal for content needs to be specific and singular. If you aren't able to succinctly express the end-game of your content, you don't have a good end goal. Examples of a good outcome for content would be, to grow your subscriber list, to raise awareness on an issue, or to get the customer to check out their shopping cart.
What kind of content do we need?
Equally as important is the types of content used. There are three different types of content, which tackle different parts of the buyer's journey which are awareness, consideration, and decision.
Organizing your content is especially important for this part. Different people should receive different types of content depending on which part of the buyer's journey they're in. Some people are much more open to the idea of buying from you, while others may need to be coaxed into it.
Organizing content ensures that those ready to buy will receive much more buyer centric content, and those who need coaxing will receive much easily digestible content.
Is my content performing well?
Like any good strategy, content should be measured in order to spot opportunity and fix its shortcomings. Not only that, but tracking a content's performance allows you to continually optimize that piece of content which then leads to even better performance.
2. Audit your content
Auditing your content identifies all of your available marketing assets. By doing so, you'll be able to identify opportunities or missing links in your content strategy.
Doing a content audit saves you hours of content creation time. If you already have a piece of content that fits in your strategy, by all means, update it and use it. Duplicating an existing content also detracts from your site's SEO.
Here at Launchpad, we keep an excel file that lists all of our content. In it we detail:
Content Title

Buyer's Journey Stage

Marketing Funnel Stage

Format/Type

Buyer Persona

Topic Category

URL Link

Notes
Formatting our contents this way makes future campaigns plug-and-play. We can easily identify the appropriate content for the right person (buyer persona) at the right time (buyer's journey) in their preferred consumption method (format/type) to be used in our marketing funnel.
While this is the way we organize our contents, you should identify what works best for your business.
For example, there are others who organize by tagging, grouping, recommendation, related articles, and so on.
3. Determine an appropriate CTA
CTAs stand for Calls To Action. Having a CTA at the bottom of your content is the easiest thing to do and yet most people underestimate how effective it is.
What do we mean by appropriate CTA though? It is using the right call to action based on your content's goal. If your goal was to generate leads, the CTA would lead to a landing page; if your goal was to increase newsletter subscribers for future marketing, provide an email subscription field; if your goal was to sell a product, lead the buyer to the check out page.
Get more tips on how to craft the most effective CTAs.
4. Organize follow-up content
You've planned your content strategy to the point where you have a new subscriber, lead, customer. What we're interested in doing is turning that subscriber into a lead; the lead will eventually become a customer, and that customer, an ecstatic promoter.
Having follow-up content communicates to your audience a few things: You are a well-oiled organization, you understand their pain points, and that you put their needs first. This positions your company as prioritizing your customers first, instead of the numbers on your bottom line.
Because you've already audited your content, this step is as easy as sorting according to the buyer's journey and picking the next relevant topic.
An example of follow-up content:
A website selling hair products published a blogpost on "3 ways to get rid of split ends." if the reader subscribes to the newsletter on that blogpost itself, it's safe to assume that they were interested in getting rid of split ends. A few days later, an infographic of what types of serums can be used to get rid of split ends is sent to the reader.
Notice how the content moved from solving a problem, to offering a better, easier solution?
An Easier Way
We all know that the bulk of the work will come from strategy and realizing that you may not have a piece of content for a specific part of the buyer's journey. Some may even have thought ahead and wondered, what kind of topic should that content be?
HubSpot's Marketing Hub offers a unique strategy and organization function for your contents.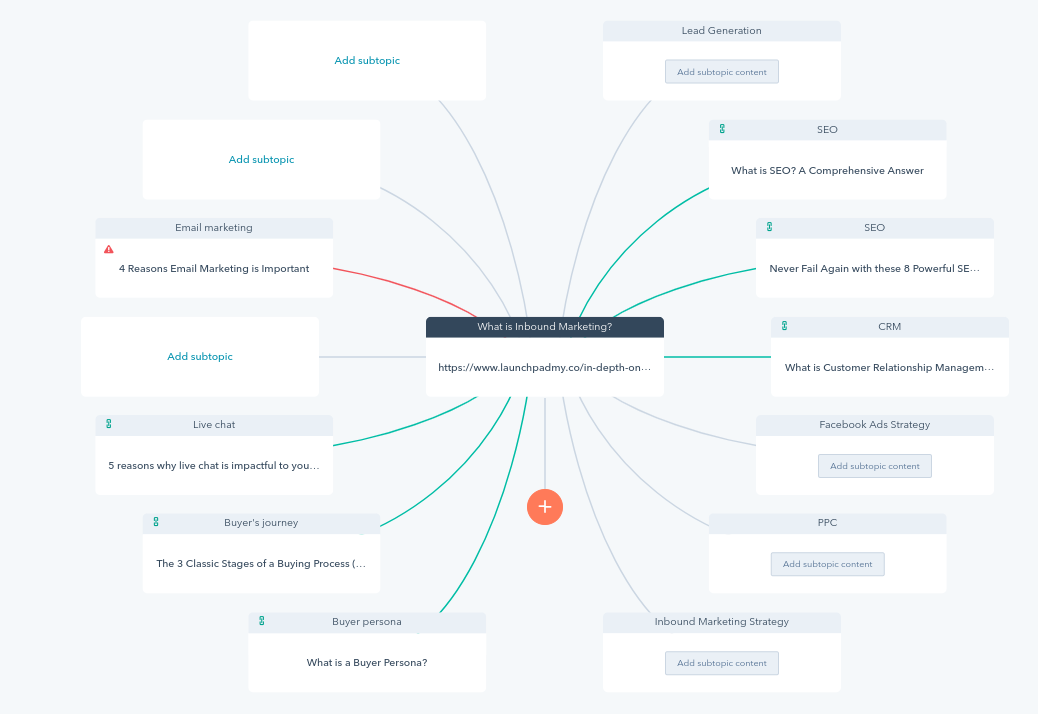 HubSpot's Marketing Hub can help you to:
Find relevant topics that pertain to your core competency

Boost your contents' SEO

Keep you focused

Identify human errors
By having a pillar page, meaning a page where all other pages link back to, structures your strategies in a way that makes your contents around a central idea. All of that is built into a tool that gives you a checklist of what you should do, and informs you about things that you haven't done.
For example, in the image above, there is a red line connected to our pillar topic; this indicates that we haven't link that content back to its pillar page.
Conclusion
Organizing your content comprises four steps:
Strategize

Audit your content

Determine an appropriate CTA

Organize content follow-up
Those are the four steps to organizing content like a content powerhouse.
Want more? Here's 7 Tips to Create Irresistible Marketing Offers.