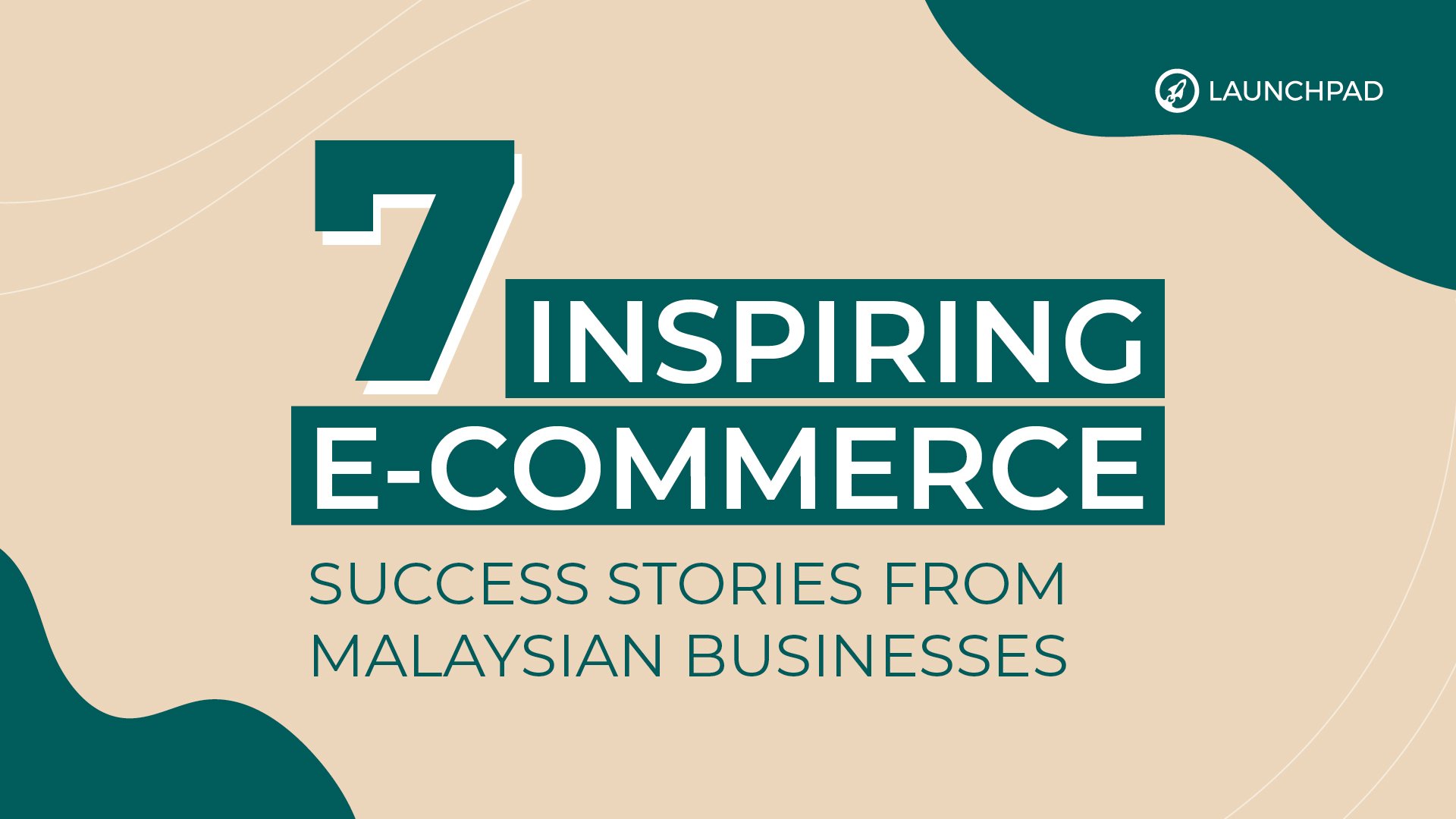 While 2020 has slowed down many businesses around the world, you'd be surprised that certain agile businesses are thriving amidst global disruptions. And they all have one thing in common; e-Commerce websites. These businesses adapt to e-commerce marketing at just the right moment and leveraged it so efficiently that they received more customers than before.
What are their success stories like? How did they do it? Here, we share with you 7 Malaysian businesses we think had made use of e-commerce to their best advantage:
1. Oxwhite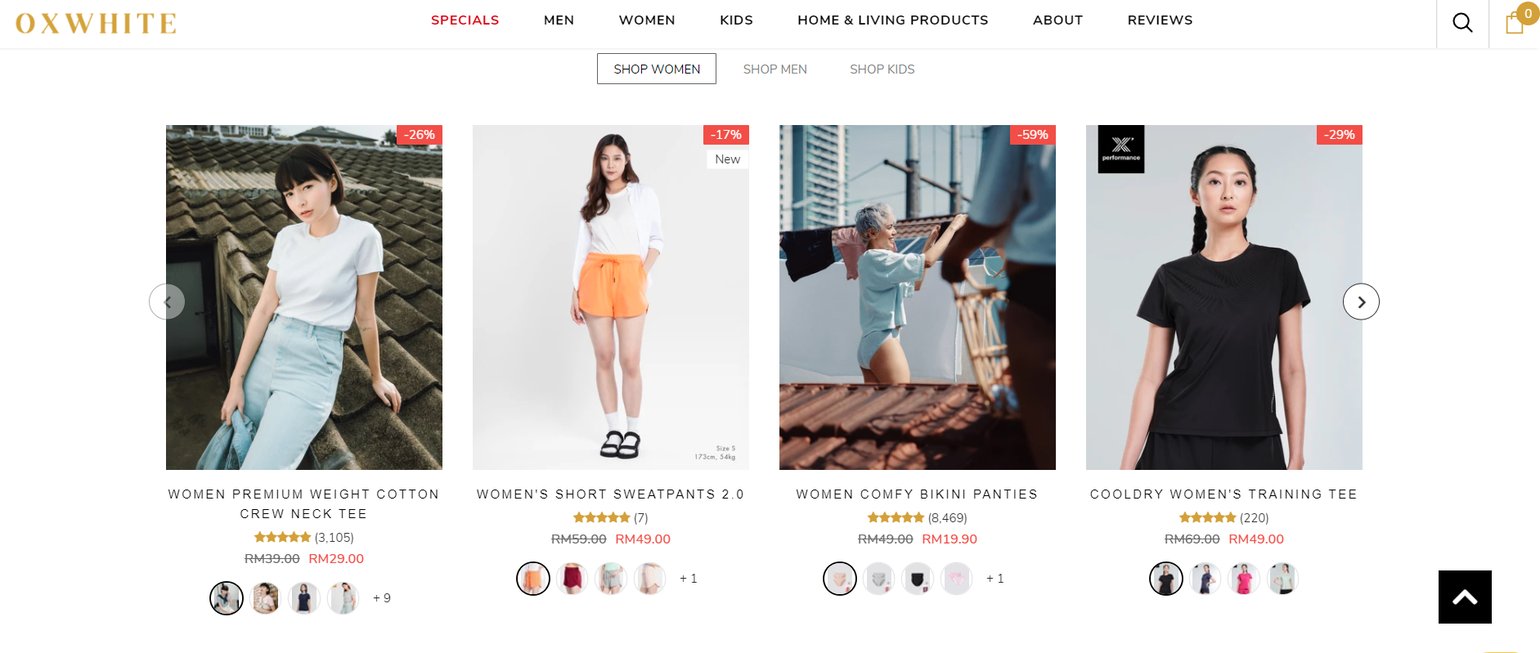 Oxwhite started to make headlines in 2018 after their marketing campaign went viral on Facebook. As a startup selling office wear, Oxwhite didn't have a brick and mortar retail store to market their apparel. They relied 100% on their e-commerce website for sales. Oxwhite utilised other digital marketing channels such as social media and media mentions to create hype and interest.
The result? Close to RM 8.4 million worth of shirts, blouses, tees and even panties have been sold from their web store. Oxwhite ensured that their marketing strategies tie-in together with the customer buyer's journey so they will be directed to the e-commerce website, excited to purchase.
2. Velvet Vanity & Kamelia Cosmetics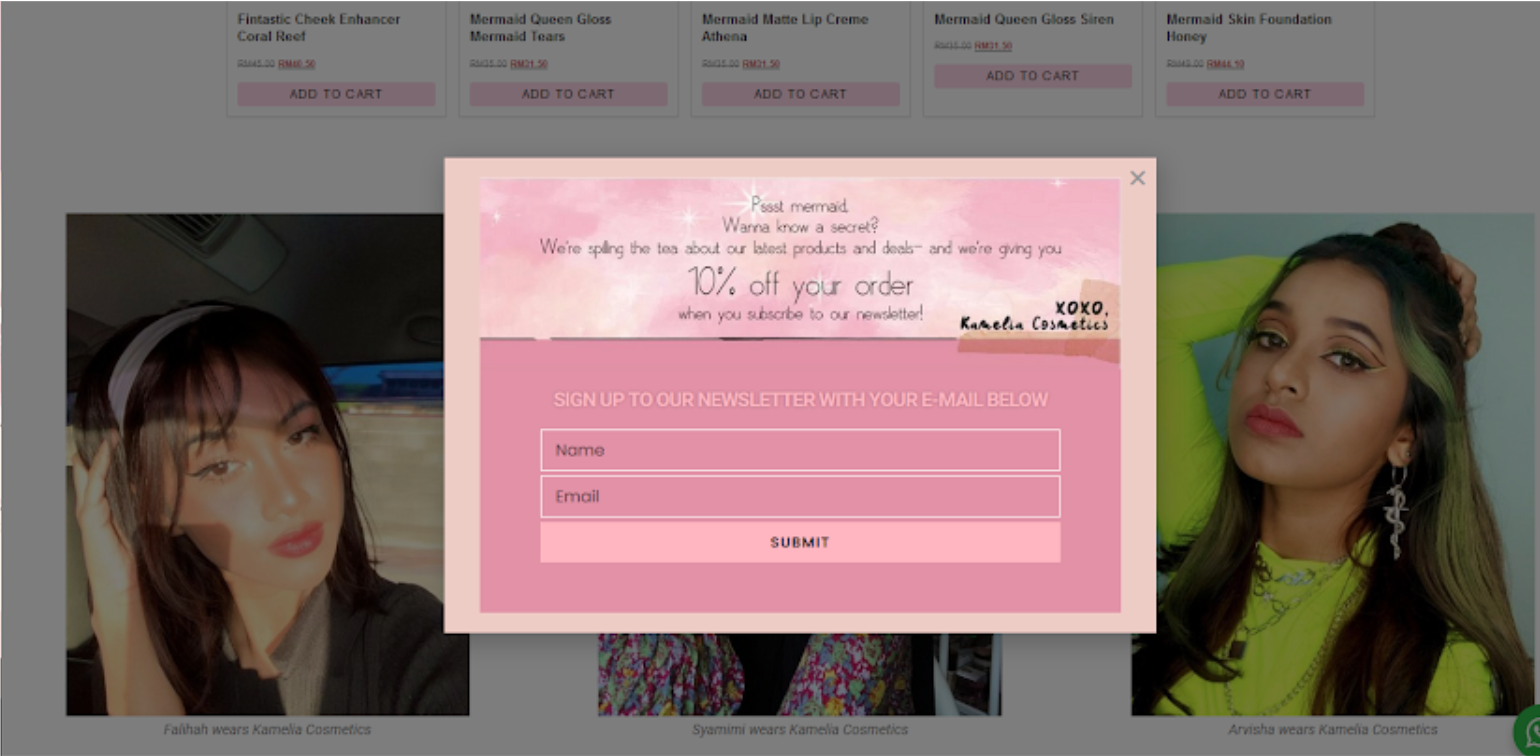 We love talking about local cosmetic brands that fit Malaysian skin tones and climate! Two brands we want to highlight are Velvet Vanity & Kamelia. Not only do they have a good brand differentiation to attract young adults, but these budding brands also host well-designed e-Commerce websites. Shopping and user experience are made easy with a chatbot, payment gateways, and even a newsletter offer so customers can follow the latest promos and trends.
Many emerging SMEs such as Velvet Vanity & Kamelia rely heavily on online sales due to lack or absence of offline distributions. Thus, they ensure that their website can serve customers, answer their queries, and generate traffic through links and ads, usually from Instagram. Young customers who are digital natives flock towards these brands, sharing their passion on social media.
3. Poplook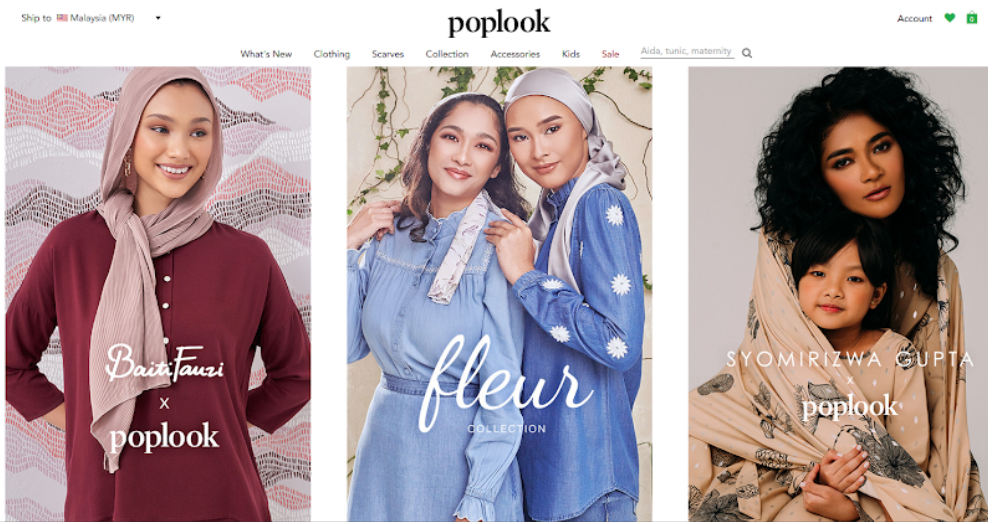 Poplook is a well-known brand among modest fashionistas in Malaysia. Founded in 2009, Poplook found success through e-commerce and online marketing. Again, aside from product differentiation and quality, Poplook also hosts a professionally-made online store that manifests the voice and identity of its brand.
Through e-commerce, Poplook is even able to export their modest wear to ASEAN, the Middle East, Hong Kong, Australia and the USA. Proof that e-commerce transcends borders, wherever your customers are!
4. BookXcess Online
With a well-maintained e-commerce platform, BookXcess managed to cushion the impact of closures and movement restrictions in 2020. They do have offline retail stores located in major shopping malls, but the company has always relied a lot on their website as a major distribution channel. Operational costs are thus reduced and BookXcess can offer their reading materials at very affordable prices that benefit customers. As a result, sales pick up 15 times more during MCO as more people opt for online shopping.
BookXcess did not leave their e-commerce site standing on its own, though. They boost it up with promos (such as the Big Bad Wolf Sale), marketing campaigns and email newsletters to attract and retain Malaysian bookworms.
#5 Amazin' Graze
Founded by Malaysian Amy Zheng in 2015, Amazin' Graze offers healthy snacks and treats. Through their e-commerce website, Amazin' Graze also launches seasonal gift boxes and new products paired with strategic marketing campaigns.
Just like other brands mentioned here, Amazin' Graze relies on online revenue from their website. Therefore, the website is designed and made to evoke emotions that the brand aims to achieve. For example, their Christmas 2020 theme includes banner ads and feature photos that go well with warm Christmasy feelings.
#6 Signature Market
Here's another F&B company that uses a lot of e-commerce strategies to drive sales. Signature Market aims to change how Malaysians buy health foods such as quinoa, almond milk, goji berries and more. Using e-commerce, the company focused its operations and costs on sourcing healthy food and selling them at affordable prices.
As we have seen with other e-commerce businesses here, Signature Market also drives traffic to their site using social media, email marketing and other digital marketing strategies. It has helped them reach new customers and change snacking habits in Malaysia.
#7 Fish For It!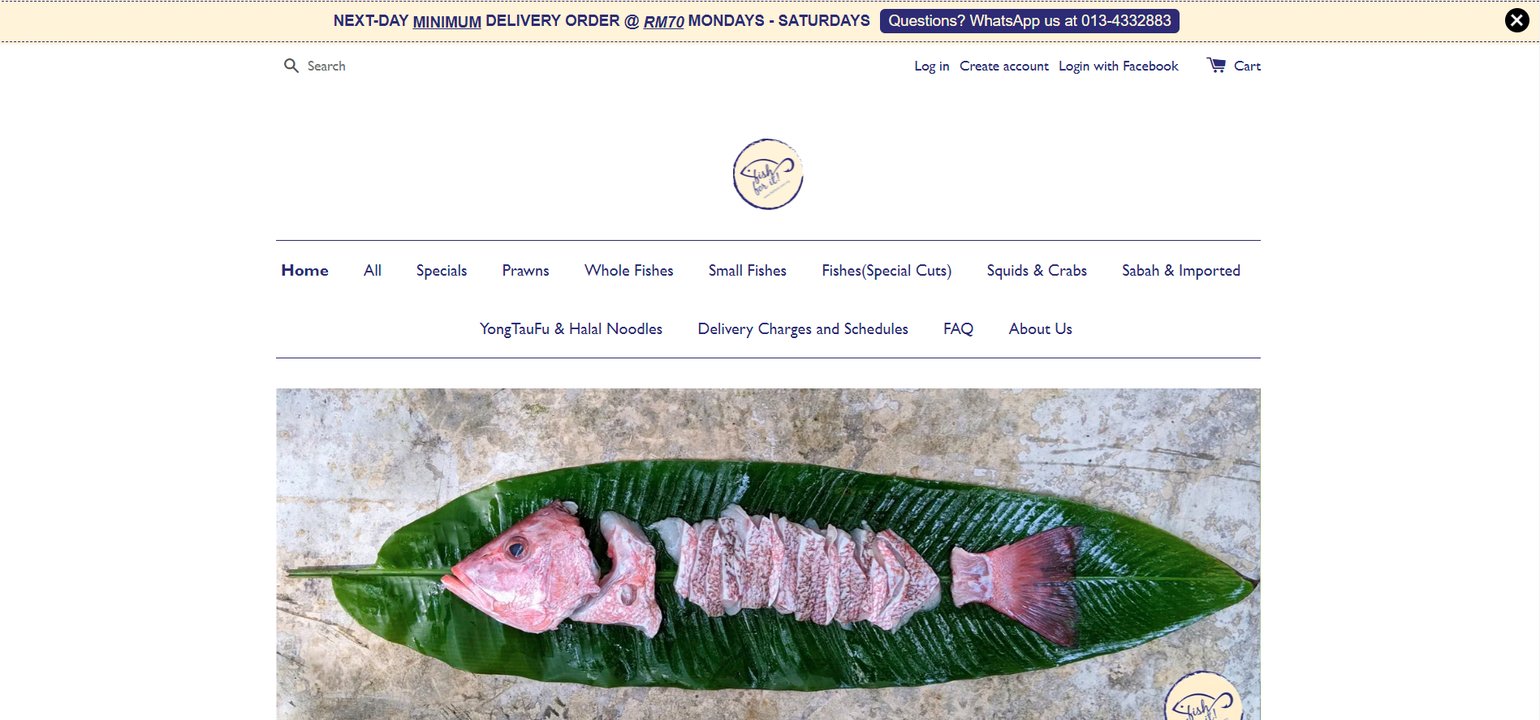 Want to give customers fresh seafood while at the same time support local fishermen? Have an e-commerce website that connects both groups!
Customers pre-order seafood at Fish For It website. Fishermen from Sungai Besar in Sabak Bernam will catch, process and package the goods and deliver dock-to-door within 48 hours. Talk about sustainable fishing practices! It's a unique way for consumers to get seafood, guaranteed fresh from the sea. This business model is made possible through e-commerce because the platform allows two-way communication in real-time.
So, what can we learn from this?
E-commerce reaches new/younger customers who are more digital-savvy

E-commerce offers export opportunities with sales from international markets

When paired with good marketing strategies, e-commerce can drive sales

E-commerce supplements offline distribution by providing alternative revenue sources

E-commerce allows sellers to focus on providing more value to customers

E-commerce can boost local industries & SMEs
If you've been paying attention, you'll notice that these businesses don't just build an e-commerce website and wait for customers to come. Instead, they work hard to attract customers to their sites and work harder to retain them. They make use of e-commerce and inbound marketing strategies to their greatest potentials and get ahead of the competition.
Quick Read: What Is Inbound Marketing? An Introduction
Are you inspired by these e-commerce success stories? Imagine your business achieving these successes and more. We hope you gain valuable insights from these exemplary Malaysian brands. And when you're ready, let's chart the course to your own online success!